All recordings are available for purchase from Rivermont Records. To read more about each disc and hear sound samples, just click on its cover image. All of my recordings are also available for download through iTunes and other online retailers, but I'd suggest picking up the CD or LP versions: you'll enjoy better sound quality and get the full booklets too!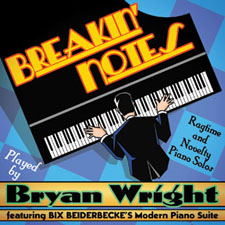 BREAKIN' NOTES: Ragtime and Novelty Piano Solos
Rivermont BSW-2212
My second full-length album was recorded in Tokyo in the fall of 2009 on a gorgeous Hamburg Steinway grand. As the subtitle suggests, it features a mix of classic rags, new rags, novelties, and the full set of Bix Beiderbecke's impressionistic "Modern Piano Solos." Many of my most-requested pieces are here, along with a 24-page full color booklet with plenty of illustrations and detailed notes for all of the selections. This one is available on both audio CD or vinyl LP (a deluxe 2-record set pressed in 180g virgin vinyl).
Efficiency Rag (James Scott)
Kinklets (Arthur Marshall)
Hoosier Rag (Julia Lee Niebergall)
Nove de Julho (Ernesto Nazareth)
Key-Stone Rag (Willie Anderson)
The Harbour Rag (Glenn Jenks)
Euphonic Sounds (Scott Joplin)
Red Elephant Rag (Martin Spitznagel)
Soliloquy (Rube Bloom)
Candlelights (Bix Beiderbecke)
Flashes (Bix Beiderbecke)
In the Dark (Bix Beiderbecke)
In a Mist (Bix Beiderbecke)
Breakin' Notes (Jean Paques)
Cottontail Rag (Joseph Lamb)
Roberto Clemente (David Thomas Roberts)
Upright and Grand (Frank Banta and Peter De Rose)
The Legend of Lonesome Lake (Eastwood Lane)
The moment the first notes rang out I was entranced, and I remained captivated throughout. [Wright's] touch produces a beautiful tone, and the recording is spacious and clear, enabling every nuance to be appreciated. His performance seems effortless, and captures the essence of each piece, not least the four Beiderbecke compositions. Highly recommended.

—BARRY McCANNA
Memory Lane
---
SYNCOPATED MUSINGS: Classic Piano Rags and Ragtime Waltzes
Rivermont BSW-2204
My first CD is an assortment of so-called "classic" rags, featuring the music of Scott Joplin and his contemporaries. While there are a handful of "standards" here, I also wanted to include a few obscurities: beautiful pieces like Jentes's "Smiles and Kisses" and Scheu's "Sleepy Sidney" that you'd be hard-pressed to find recorded elsewhere. The pieces on this disc are perfect examples of what initially drew me to ragtime: lush, pianistic arrangements of beautiful — even elegant — syncopated melodies, often tinged with just the right amount of melancholy. Even today, "classic" rags are my favorites to play: they're just so musically and emotionally satisfying! The CD includes an illustrated booklet with notes on the selections. Portions of this CD were featured in an episode of the PBS-TV series Great Performances.
The Thriller (May Aufderheide)
Ham And! (Arthur Marshall)
Country Club (Scott Joplin)
Magnetic Rag (Scott Joplin)
Smiles and Kisses (A Syncopated Classic) (Harry Jentes)
Pastime Rag No. 4 (Artie Matthews)
Binks' Waltz (Scott Joplin)
Rooster Rag (Muriel Pollock)
Weeping Willow (Scott Joplin)
Ragtime Nightingale (Joseph Lamb)
Bantam Step (Harry Jentes)
Harmony Club Waltz (Scott Joplin)
Sleepy Sidney (Archie W. Scheu)
Heliotrope Bouquet (Louis Chauvin and Scott Joplin)
Bethena – A Concert Waltz (Scott Joplin)
Maple Leaf Rag (Scott Joplin)
The complete dynamic range of a rich grand piano is explored to full advantage here. Wright admirably mixes his fortes and pianissimos as well as his legatos and staccatos to capture a warmth that is often missing in other ragtime recordings. The sound quality is excellent – front row center at a concert hall – and the overall packaging has an aura of class. Bryan Wright has hit a home run with his first CD.

—JACK RUMMEL
Ragtime Music Reviews
---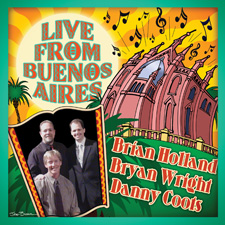 LIVE FROM BUENOS AIRES (with Brian Holland and Danny Coots)
Rivermont BSW-2233
My third CD is a collaboration with pianist Brian Holland and drummer Danny Coots. In October 2014, we journeyed to Buenos Aires, Argentina to perform at the inaugural Buenos Aires Ragtime Festival. Over several days, we played a series of concerts to a packed house at the Recoleta Cultural Center; this CD (and a companion video DVD sold separately) captures all of the highlights. The playlist ranges from jazz and boogie-woogie to "classic" ragtime, modern ragtime, tango, and some 1920s pop songs (with a guest appearance by Yuko Eguchi). The CD also features several of my own compositions. The CD version comes with a 24-page illustrated booklet containing detailed notes and an introduction by ragtime legend Max Morath.
Fussin' (Willie "The Lion" Smith)
Hinges (Teddy Hahn)
Haytian Rag (Ford Dabney)
Carmen Boogie (Georges Bizet)
Jitterbug Waltz (Thomas "Fats" Waller)
SPEBSQSA Stomp (Bryan S. Wright)
Louisiana Rag (Theodore Northrup)
The Silver Swan (Scott Joplin)
Spanish Autumn (Brian Holland)
Caravan (Juan Tizol)
Ticklish Tom – A Carolina Cakewalk (Bryan S. Wright)
Corncracker Rag (Tom Shea)
Kitten on the Keys (Zez Confrey)
St. Louis Blues Boogie (W. C. Handy)
Red Lips, Kiss My Blues Away (Bryan, Monaco, and Wendling)
Steeplechase Rag (James P. Johnson)
The three musicians here are all on top form, whether in combination or solo, the performances are polished and enthusiastic. Of course, it's live, which adds to the charm of it; there's no studio add-on and the audible enthusiasm of the audience propels the performers to give their utmost. I absolutely love this CD. I have never been "into" recordings of live performances of classic material, because so often the performance does not live up to a prior studio version. But here, in one package, are some of the finest piano performances I have heard in the popular music idiom. You need to hear them.

—MALCOLM SHAW
VJM Magazine
---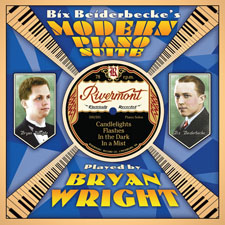 BIX BEIDERBECKE'S MODERN PIANO SUITE [78 RPM Records]
Rivermont 590/591
In 2009, on a cool fall evening in Tokyo, I had the opportunity to sit at a beautiful Steinway C-227 grand for a four-hour session to record Bix Beiderbecke's four impressionistic "modern piano solos" for special release on two 10-inch 78 rpm records. I was especially pleased with how these turned out and decided to include the four selections on my Breakin' Notes album as well, but here's the original 78 set! My friend, artist Joe Busam, designed the stunning cover, stylish record labels, and special inner sleeves.
Candlelights (Bix Beiderbecke)
Flashes (Bix Beiderbecke)
In the Dark (Bix Beiderbecke)
In a Mist (Bix Beiderbecke)
Bryan Wright has superb dynamic control at the keyboard… and he does full justice to the subtleties of Beiderbecke's music. [He] sets out to give these four compositions a truly Bixian quality and interpretation: changes of tempo and texture are not overdone, but neither is there any sense that they are being forced into a 'jazzy' rhythmic mould, which does not and could not fit them. They are played at the right tempo and in the right order. [T]he sound quality of the recording is superb.

—MAX EASTERMAN
VJM Magazine